Over the past few months, there has been a big increase in building sites contacting the team at SRS with reducing dust on construction sites in mind, to reduce the amount of dust kick up on their building projects through means of pedestrian and ride on construction site sweepers. With good reason too!
Construction dust is not only a pain but can also cause some serious health risks. Regular inhalation of these types of heavy dust particles common to construction sites over long periods of time can also result in life-changing issues if action to prevent such issues is not taken beforehand.
How Industrial Cleaning Machines Can Help You
There are certain benefits which an industrial cleaning machine (walk-behind or ride-on) can provide your construction site with. While it can be difficult to maintain a dust-free site with sweeping only machines which could increase the levels of dust in the air (where large volumes of dust are present), there are machines which go overlooked in the construction industry, which can be of great benefit to businesses and individuals.
Here at SRS we are Safe Contractor and CHAS approved and all of our battery-powered machines are supplied with a 110volt battery charger — ideal for your construction site. Here's a closer look at some of the machines which are designed to help keep construction sites clean, safety hazard-free, and as dust-free as possible.
Ideal for any big construction site, the SRS large ride-on scrubber dryer is designed to withstand heavy use in tough, industrial environments. Complete with sweepers and scrubbers this heavy-duty combination cleaning machine is capable of providing an aggressive and effective clean as it sweeps and scrubs in a single pass.
Using this method, the machine's 68-gallon tank helps to stop dust being kicked around by wetting, cleaning and drying the floor while at the same time the sweeping system removes any larger debris.
Learn more about this machine here.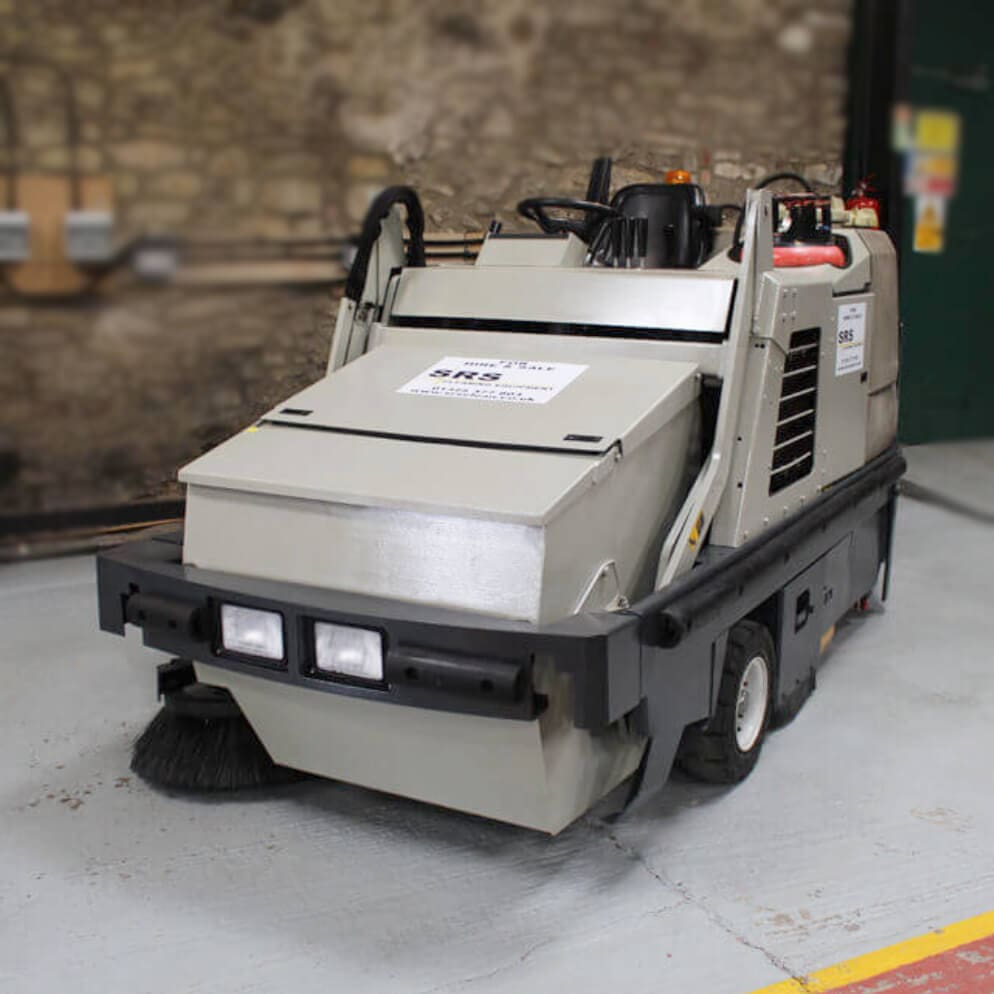 Using the same method as the large ride-on scrubber dryer, the large ride-on full sweeper/scrubber allows the operator to wet the floor and suppress the dust before scrubbing it clean and removing the dirty residue. An ideal machine to reducing dust on construction sites which may have become airborne.
Providing the operator with the ability to wet and scrub the floor clean, effectively sweep up large amounts of dust and debris, or do both at the same time makes this the ultimate dual performance construction site floor cleaning machine!
Equipped with a 14 cubic foot hopper, this robust combination cleaner can gather and collect a variety of dust and debris using a 42-inch sweep path capable of covering 67k square feet per hour.
For more information on this machine, click here.
This heavy-duty floor washer is capable of utilising the same method of dust suppression as the other two machines mentioned, but for much smaller spaces and under a higher level of control. Using a large battery pack rather than a diesel or LPG engine, the large walk-behind scrubber dryer is built with a 33-inch wide scrubbing path and is one of our most popular hire models.
This industrial scrubbing machine features a 30-gallon solution tank and oversized recovery tank, making this machine ideal for larger areas which require a smaller machine with better manoeuvrability.
Learn more about this machine here. 
Get in touch with the team at SRS using our online contact form or call us on 0330 678 11 22 and our specialist team of advisors will be able to advise the best machine to meet your construction site needs and requirements.